⏱
4
min
Sustainable development aims to satisfy current needs without compromising the possibilities of future generations. To achieve it, it is important to harmonize three fundamental elements: economic growth, social inclusion, and environmental protection. An effort that will generate important benefits for organizations that decide to undertake a sustainable transformation. Here are the 4 main benefits of Sustainable Governance. 
Environmentally sustainable development
In the United Nations Global Agenda for Sustainable Development (2030 Agenda), the European Commission addresses issues related to the environment and climate change, but not only. The 17 goals to be achieved also incorporate economic and gender inequalities and, with reference to business, outlines sustainable patterns of production and consumption. Such an articulated plan encourages entrepreneurs with a sense of responsibility that today is increasingly appreciated by customers. In fact, we talk about Corporate Social Responsibility (CSR). That is, the voluntary choice to act in a socially and environmentally responsible manner. This is a value that weighs more and more on the reputation of companies.
Today, when a company chooses to invest in green projects, it can view a mere economic return or take inspiration from ESG (Environmental, Social, and Governance) criteria. In the second hypothesis, the growth will not only be monetary but also in terms of values. And yet, even though we talk a lot about environmental emergencies, the percentage of companies that decide to take action to make their contribution to sustainability is still low.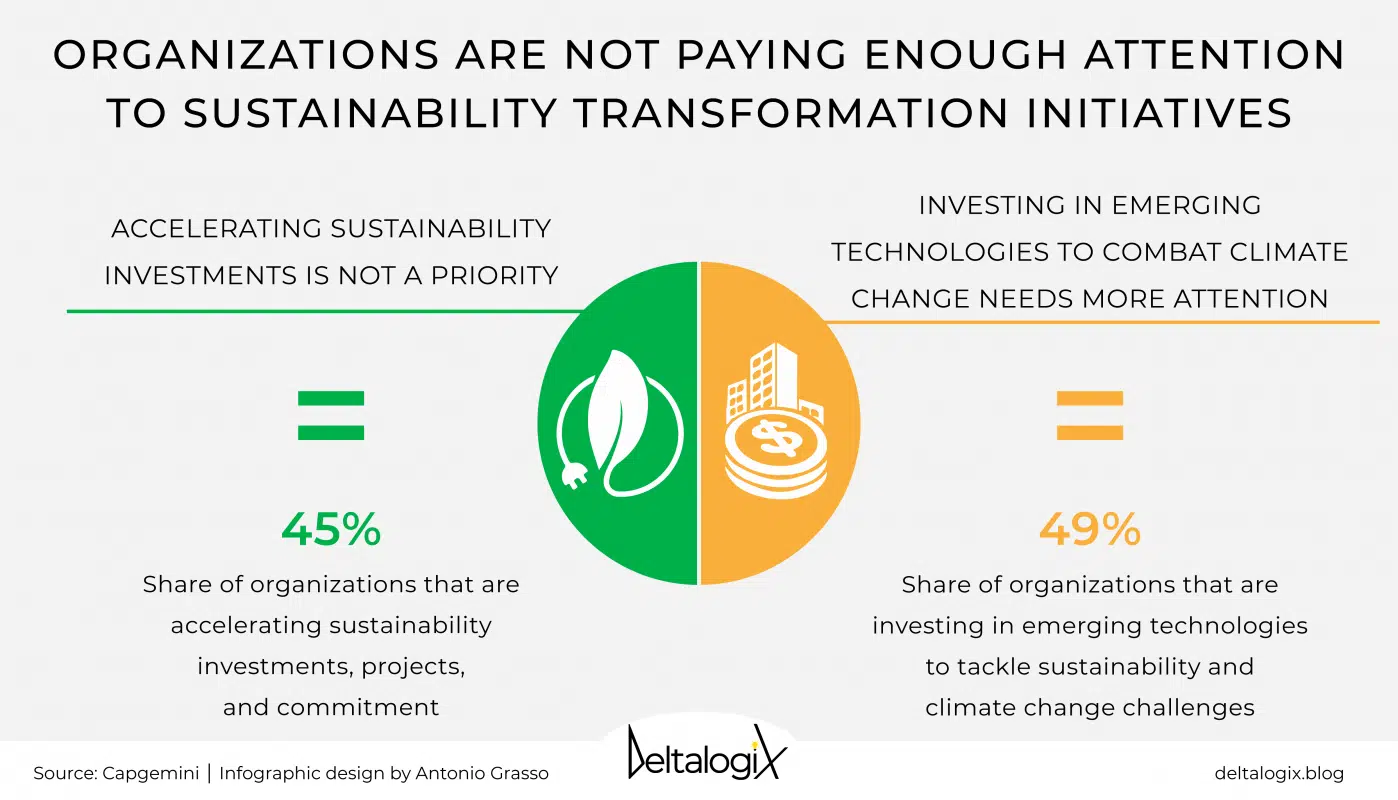 A research produced by Capgemini highlights this aspect. The report "Digital Mastery – How organizations have progressed in their digital transformations over the past two years" shows that, two years later, the percentage of increase in sustainable actions is still low compared to the benefits that this choice would generate.
Environment, Society and Government: the three aspects of sustainability
When we reflect on the environmental changes of recent years, the first sustainable transformation initiatives that come to mind are often related to the green economy. For example, energy efficiency projects in factories and processes. Or reducing environmental impact and decreasing emissions. A broad but reductive context.
Most business processes always generate effects that, in some cases, can reflect on society and especially on people. Indeed, an entrepreneur's decision to transfer a branch of the company to another country will have social consequences on the families of employees. Or, the opening of a business will generate a social and environmental impact throughout the surrounding area. To be competitive, it is also important to pay attention to the company's internal and external social relationships. If a company pays attention to the care of its employees and, in addition to achieving objectives, also thinks about showing gratitude to them, it will have a lower turnover of talent. In addition, with social media, the public recognition of employees through posts often translates into a return on image for the company. In addition to these, the social criterion also includes issues such as inclusiveness, gender diversity, and territorial belonging.
So? How can a company generate long-term value? And here we enter the area of Governance. In the strategic phase of defining the company's goals and values, sustainable actions should also be evaluated. Companies that really want to invest in green processes will include real sustainability goals in their business plan. A company that is responsible and committed to achieving environmental, social, and economic well-being will be able to publish the increased value it generates. This publication will increase the probability of being contacted by investors interested in collaborating. Dialogue can lead to sustainable growth strategies.
4 key benefits of sustainable transformation
---
4 key benefits of sustainable transformation for organizations that want to grow their values.
Click To Tweet
---
Talents will stay in the company
Sharing the objectives of sustainable management means involving employees in the process of respect towards the external and internal context in which they operate. Resources are the reflection of a careful and responsible organization. A company that acts with respect for the environment and people generates pride and esteem in its employees, who feel that they are working for a dual purpose: improving the world in which they live and obtaining financial compensation. There are cases when a salary is not enough to motivate a resource. In fact, it may happen that an employee accepts a job that is less financially advantageous but with a lower level of stress. Finally, it should never be forgotten that employees are the first promoters of the company.
Improve customer relationships
Whether they are stakeholders, partners, or end customers, buyers of a product or service, if given a choice between a green company versus a traditional one, will always opt for the sustainable organization. This justifies the desire on the part of companies to become certified in order to display the label that recognizes their merits.
The international standard SA 8000 (Social Accountability), for example, certifies that the company; is attentive to the health and safety of employees; does not allow child labor; has adjusted working hours to the standards allowed; and wages to the levels of social responsibility required by the standard. With these things in place, employees are happy to work there, and buyers are happy to get a sustainable product/service.

Increased capacity for innovation
Sustainability opens the door to accessing European funds by increasing the opportunities for awarding and participating in calls for proposals dedicated to eco-innovation. A sort of recognition for particularly deserving organizations. One example is Life+ , a financial support tool for companies that implement the guidelines provided by European environmental and climate legislation. Like this one, many other forms of funding reward integrated projects, i.e., those that aim to achieve sustainable objectives whose benefits start at the regional level and can even reach the transnational level. Receiving European funds means being able to reinvest them in innovative technologies, optimizing processes, and making the company more agile.
Decrease costs and business risks
Sustainability is a concept that can be attributed to any action, process, or business line. In the case of enterprise risk, its application is called SERM (Sustainable Enterprise Risk Management). What is meant by this? It means that not only economic and financial risks are assessed but also those associated with activities that increase the value of the company. In this context, the ESG criteria listed above, which now form the legal basis for sustainable investments, fall perfectly into place. Integrating ESG criteria into the elements for measuring company performance means reducing costs and company risks with more evident effects in the long term.