⏱
4
min
How much data do employees have to deal with every day in the company? A lot, especially when we look at digitized companies. It's information you need for day-to-day operations or to make strategic decisions. In these cases, the risks associated with their dissemination are lower. If, on the other hand, we manage data that identifies an individual and their personal sphere, then the issue changes radically. How do you handle sensitive data in your organization? Here are some tips for facilitating sharing personal data within the company and with stakeholders without exposing yourself to excessive risk.
What does personal data mean?
When entering into such an impervious area as personal data, it is not advisable to give a generic definition, as there is a risk of omitting something. Never as in this case, every word is indispensable to not commit errors in managing information.
That's why, to clarify the relationship between personal data and sensitive data, I have chosen to refer to the definition given by the Guarantor for the Protection of Personal Data:
"Personal data is information that identifies or makes identifiable, directly or indirectly, a natural person and that can provide information about their characteristics, habits, lifestyle, personal relationships, health status, economic situation, and more."
This macro-category includes:
personal data that allow direct identification of the person;
sensitive data revealing racial or ethnic origin, religious or philosophical beliefs, political opinions, trade union membership, health or sex life;
genetic data, i.e., characters that form the heritage of a group of related individuals;
biometric data and data relating to sexual orientation;
judicial data relating to convictions or offenses.
What happens when these data pass from the interested party, i.e., the natural person to whom these data refer, to the owner, i.e., the subject, public or private, who will have to manage them? We enter personal data processing, a delicate matter that requires internal management and compliance with legislative standards.
What are the personal data in the company?
Let's now analyze the meaning of personal data for companies. Whether they are internal, as data belonging to employees, or external, containing sensitive information of customers, their protection does admit any error. What are the risks of disclosing personal data? These risks range from compensation for damages to imprisonment for criminal offenses. Condemns that make us understand why we should not be superficial.
What are the risks of disclosing personal information? Those who disclose information may face penalties ranging from damages to imprisonment for criminal offenses.
In the company databases, there are employees' personal data useful for the definition of employment relationships and also used by external employment consultants; but also personal data of customers used to issue invoices or to send/receive payments; in the case, for example, of hospital companies also genetic, biometric and sensitive data.
The passing of this information between company departments or outside the organization should be handled with caution but should not be avoided out of fear of making a mistake. One suggestion for increasing the protection of confidential data is for the company to set guidelines and communicate them to its employees. This way, data sharing will take place in protected settings.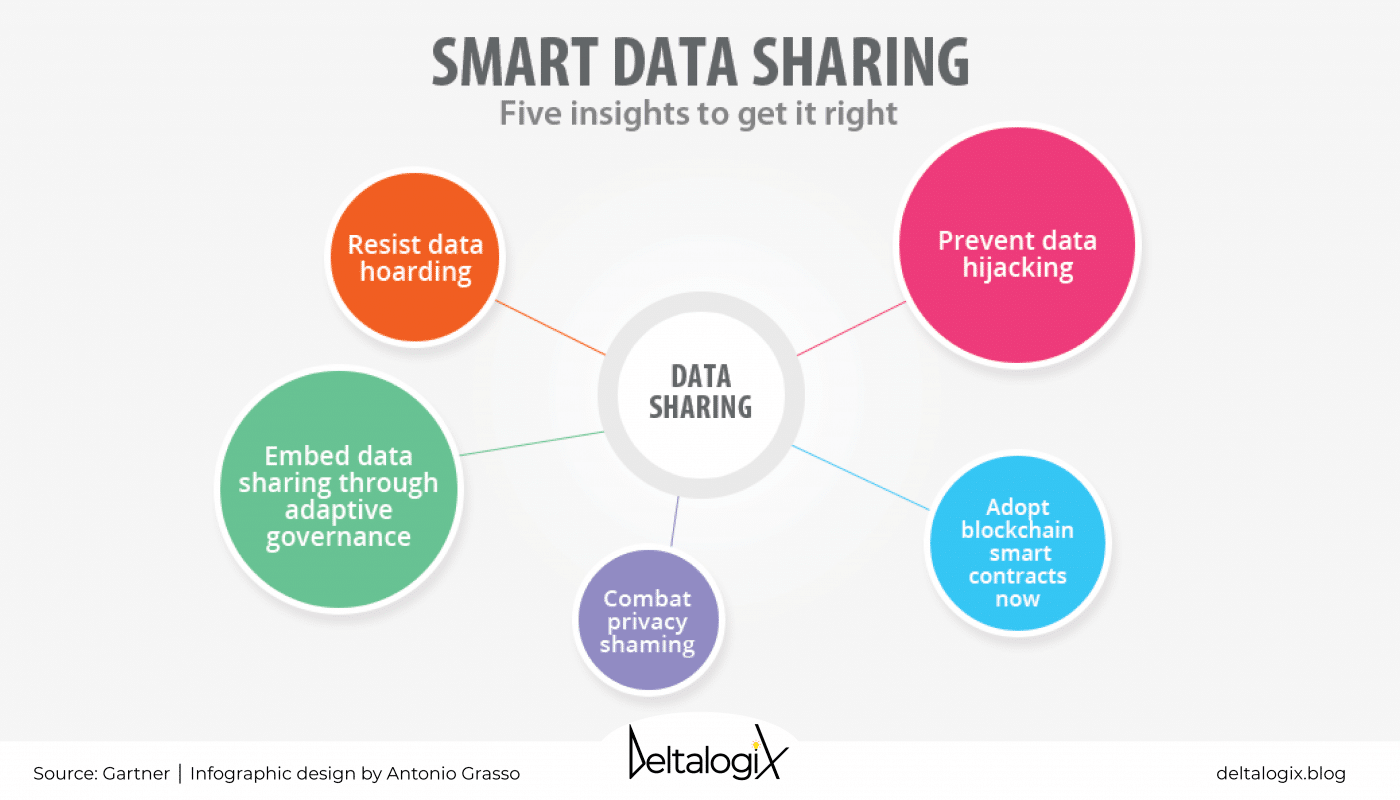 First step: Define personalized policies for handling data
When collecting sensitive or personal data, you should clarify the policies for handling that information with all parties involved in the process.
The spread of the Internet has brought an enormous amount of data, personal and otherwise, online. Since this data is confidential, it took a regulation to which all companies must adapt: in Europe, it is known as GDPR (General Data Protection Regulation).
In addition to the general regulations, it is crucial that each company develops guidelines to be followed in data treatment. This way, all internal or external employees will know how to behave when dealing with sensitive data. If I clarify what happens to the information that employees and customers decide to share with the company, I will drastically reduce fears and prejudices related to risks.
Second step: Don't be afraid to share data
When you're in a responsible role in all jobs, you have access to so much data that sometimes you happen to be afraid to share it. Especially when it comes to personal data, yet if you pay attention upstream, not only are there almost no risks, but the company, employee, or customer can benefit substantially from sharing information.
A few examples? Companies need personal data to carry out all economic transactions to customers and employees. In the case of an employee, sharing personal data with a company serves to receive a salary. In contrast, in the case of a customer, it also helps to improve customer satisfaction. Many apparel e-commerce companies require various types of personal data that are useful for the transition you are making and to customize future offerings.
To facilitate data sharing, companies need to be transparent about how they manage data; communicate to customers or employees what that data is for and why you need to share it; and finally, manage concerns generated by emotional influences and prior biases. In this case, collaborative governance is the best way to go.
---
In business, it's critical to draw up guidelines to protect the sharing of personal data. Here are 3 steps to do it correctly.
Click To Tweet
---
Third step: Security also passes through smart contracts
If you've never been interested in smart contracts, I suggest you read "Smart Contracts and DApps: what they are and how they work" to evaluate the possibility of creating contracts without intermediation but legally valid.
How do smart contracts relate to the processing of personal data? Smart contracts can be a valuable aid when it comes to privacy or information that requires more excellent protection. By their definition, smart contracts are immutable and irrevocable, and when combined with platforms such as Blockchain, they do not allow for modification of the data within them. Deciding to enter into a data-sharing agreement using this technology means eliminating intermediaries and ensuring that the data contained is read-only by the data subjects and owners.
What happens if they breach the database that holds the information or the cloud that stores it? Ensuring data protection through all technologies and software in line with Cyber Security standards is a practice that reduces risk to the business and provides peace of mind to those reassures those who will have to enter their data.