⏱
3
min
– Article in partnership with Juniper Networks –
O-RAN ALLIANCE is a worldwide community of vendors and institutions committed to defining interoperability standards to facilitate an open and intelligent virtual Radio Access Network (RAN). Juniper Networks is an active part of this community and has built a framework that ensures full interoperability and simplifies the user interface. Let's take a look at what it's all about.
What is the O-RAN ALLIANCE community?
I have long believed that by working together – by operating holistically – we can do far more than the sum of our individual efforts. One plus one is always greater than two, or so I have learned.
I was reminded of this lesson last week, while I was researching the O-RAN ALLIANCE, a worldwide community of vendors, network operators, and academic institutions, that is transforming the radio access network industry into an "open, intelligent, virtualized, and fully interoperable RAN."
Thirty-one operators have come together with ~300 industry and academic organizations to redefine industry standards, improve the experience of over 4.5 billion global customers, create new business opportunities, and optimize investments and operating costs. This unique union of stakeholders coming together for the same vision and mission will go beyond the sum—I predict the impact of these different parts working in synergy will be multiplied.
Responding to the O-RAN's call for innovation and cooperation, equipment, and service providers – especially Juniper Networks – are contributing their expertise to ensure full interoperability with the Alliance's specifications and interfaces. Consistent with the need for openness and transparency, Juniper's RAN Intelligent Controller (RIC) allows users to host third-party applications that can easily interface with their own system management and orchestration and those of third parties, as long as they are compatible with O-RAN standards.
---
Working in a team, taking a holistic approach, is the best way to generate results far greater than the sum of our individual efforts
Click To Tweet
---
The Interoperability Challenge
As a computer scientist who has worked in the industry for 38 years, I would be remiss if I didn't point out the incredible effort made by Juniper's engineers to ensure the software was fully interoperable with third-party components, both in the application program interface mode and with the availability of software development kits. The infusion of AI, machine learning, and data science expertise transforms the way support teams interface with the network through AI-based automation and predictive algorithms.
Impressively, the framework was forged using scalable architecture based on microservices that exploit the container paradigm for deployment. The microservices architecture – a variant of the Service Oriented Architecture (SOA) – allows you to divide a large application into smaller and independent chunks; this granularity enables the optimization of functional areas and responsibilities.
But the icing on the cake that underlines Juniper's commitment to the O-RAN's requirements is that it was designed as an integral part of their Experience-First Networking strategic vision. In simplifying the customer experience, Juniper provided a superior outcome for their end-users.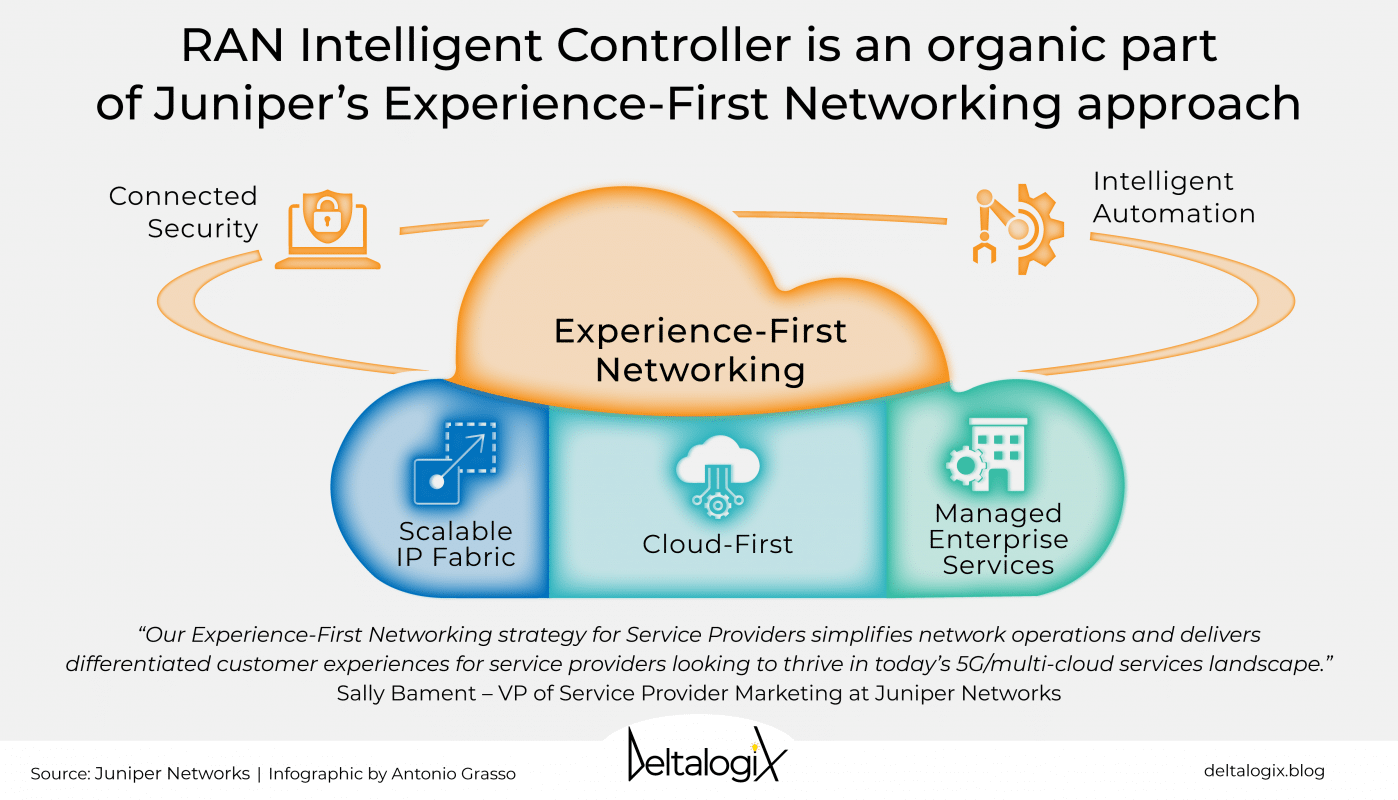 From an operational standpoint, the Juniper RAN Intelligent Controller was implemented in a trial, in collaboration with Vodafone and other operators, to show its full potential in an actual use case to carry out admission control for priority users. The trials address mobile operators' main challenges in personalizing the user experience, generating revenue, and reducing cost.
Juniper and Intel Collaboration
As an Intel Software Innovator, I cannot miss talking about the collaboration between Juniper and Intel on RIC platform-specific apps to improve customer experience, maximize ROI, and drive ecosystem innovation. Juniper and Intel are also working together to develop the Juniper RIC. the Intel FlexRAN platform will be pre-integrated and pre-validated to speed innovation and time-to-value.
For all these reasons, I think Juniper's approach is most aptly described as "holistic," because it magnifies all the elements of the ecosystem, and thus bypasses the classic logic of mere business opportunities that tend to distort corporate strategies. This requires an awareness that a system's properties should not be created based on the characteristics of various components but rather by the functional sum of the whole. And this is where the magic happens for Juniper: The functional result of the whole produced far greater advantages than those obtained from each individual component.
Juniper's strategy more than ever fulfills the O-RAN's promises; namely, to redefine dynamism, competitiveness, and interoperability for the RAN market. It does so by adding some of the more distinctive skills that only true market leaders are able to do, precisely because they believe in it and thus commit their full resources to bringing it to light.