⏱
6
min
Digital can tiptoe into the business, in the easiest processes to change, or completely disrupt the business model and the entire organization. In the second case, effort and investment will be greater but radically improve the business. How? Here are the 5 benefits organizations gain from undertaking digital business change.

Business transformation: when change is radical
The power encapsulated in the word "transformation" expresses the effort needed to change a company in depth. Indeed, making the most of digital innovations requires more than just installing automation software or making individual departments or processes digital. Instead, it requires planning that starts with new business models and arrives at new products or services to bring to new markets.
This means changing skin and transforming to adapt to the new digital culture. The companies that have responded best to smart working are those that had already implemented flexible work arrangements before the pandemic. The choice to abandon old models to make room for new forms of work is linked to leaders who see digital as a tool, not just a cost.
The innovations, technologies, and new approaches of digital are key elements that will enable answers to further questions and new market opportunities. When the environment changes radically and suddenly, leaders must also break the patterns within the company if they are to survive the storm and at least come out unscathed. And the perfect tool currently is precisely digital.
Digital Transformation: The 5 benefits of digital companies
What happens when one chooses to take a digital approach in the company? One embarks on a path that challenges a company's all organizational and managerial aspects of the company. For change requires a thorough analysis of strategies, flows, and resource management, as well as the technologies and service software used up to that point.
Highlighting any bottlenecks or unproductive and inefficient activities serves as a first skim to achieve process optimization, but this is not yet a true transformation. For that, there needs to be a redesign decided by top management and falling back on all departments and corporate resources.
The levers that push leaders to take this step are various, and the steps to follow for change management will need to be well structured, but downstream there will be benefits that allow companies to take a big step forward. Here are 5 benefits of Digital Transformation gained by companies already embarked on this journey.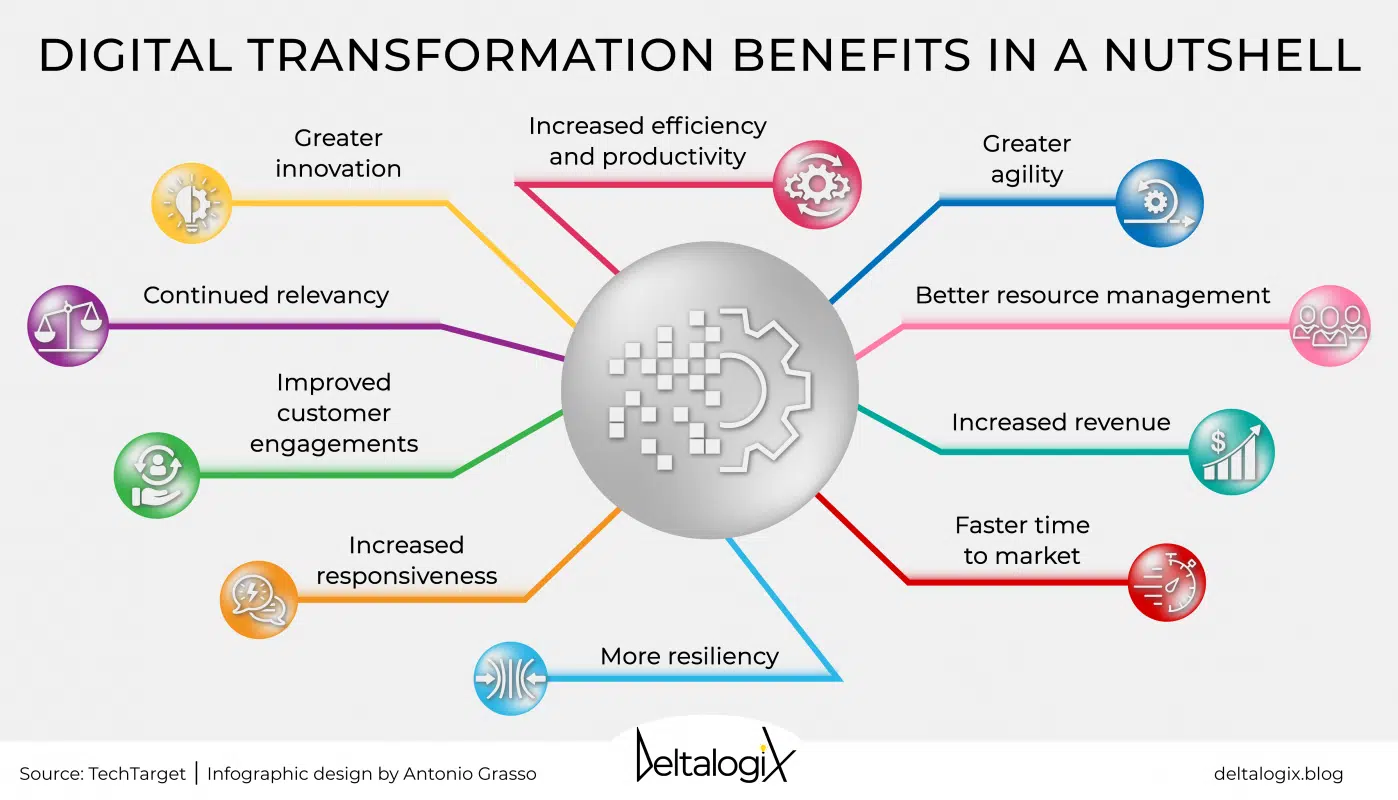 Agility, responsiveness and resilience
Digital processes are significantly more agile and responsive when the external context in which the business operates changes suddenly. Think, for example, of cloud storage. When employees perform their tasks using files and folders placed on virtual servers and not on their physical devices, they can work anywhere.
If the office becomes unusable for an extended period, activities will not stop. It will be the employees who will move to another location. The same applies in the case of a sudden failure of the physical device. Work will not be lost because it is stored in the cloud.
In Workday's global survey, " 32 percent of respondents say that accelerating digital initiatives, through increasing digital revenue streams or promoting digital transformation, ranks first among changes that will improve their company's resilience in the face of a future crisis."
Increased efficiency and productivity
IoT sensors, Edge Computing, cloud storage, and automation make processes and tasks much more streamlined and efficient. In effect, automating an operation means reducing time and freeing up resources that can be engaged in more complex and productive activities.
When a department is digitized, the activities flow becomes continuous, and downtime is reduced to the bone. For example, through Robotic Process Automation, we can continuously repeat simple pre-programmed tasks, or by implementing Chatbots, we can automatically answer customer questions 24/7. On the other hand, a resource would need the much-needed hours of rest and break or might make mistakes by repeating the same tasks repeatedly.
A digitized company will assign tasks to intelligent software and bots that are routine and can be pre-programmed as they follow a repetitive flow. And at the same time, it will deploy resources and talent on activities that need cognitive input and contribute to increased business productivity.
---
Achieving Digital Transformation benefits requires a radical change involving the business model and the entire organization.
Click To Tweet
---
Exploration of new markets
New digital technologies bring improvements at all stages of a business process. It starts with research and development. Using Artificial Intelligence, sensors or prototyping speeds up the entry of the product/service into the market. But it is not enough; it is also necessary for the team to cooperate synergistically from the project's conception throughout the product's life cycle. Such cooperation will only be possible if working on the same dataset accessible from a single database. Only by creating a model that updates and learns through AI will it be possible to move forward quickly and enter the market in record time, beating the competition.
This is why digital change is making a difference. By increasing the speed of processes, you will also be able to choose to enter new markets, thereby increasing revenue. In fact, being able to conduct market surveys with software that quickly analyzes a large amount of data will simplify decision-making and reduce the risks of misinvestment.
Improved relationship with loyal and potential customers
The software equipped with Artificial Intelligence or programmed to automate actions significantly improve the Customer Experience and act on the main aspects that govern the relationship with current and potential customers. They also enable the collection and analysis of a huge amount of data by improving the pre-sales, sales, and post-sales phases. Data, in fact, facilitate the understanding of needs and enable an analysis of the Customer Journey so that products or services can be created that are increasingly in line with customer demands.
An example? Programming chatbots for customer service. Today's users are increasingly demanding, and in case of a product/service malfunction, they require a response in a short time. Without automation, if contact with the company occurs on a Friday evening and the resource that could offer support returns to the office on Monday, the user will have to wait. With a chatbot programmed to address at least the most common issues, the response to the user could come immediately.
At the same time, physical stores could leverage digital to transform into e-commerce and expand their market from local to global. Today, with the various platforms available, moving online will be significantly easier.
In addition, tapping into consumers' as-yet unspoken needs will lead to more customers with new products or services. Finally, if we add ancillary after-sales services, it will improve Customer Care and the relationship, over time, of already loyal customers.
New business models and new perspectives
Business models describe the logic through which a company creates and disseminates value. What changes between one model and another are the structure of the value chain, the price, or the organization of resources and technologies. Deeply transforming a company also means acting on the corporate business model. Introducing a new way of thinking, studying new strategies, and identifying new products and services. It also means exploring adjacent territories where the company's competitive advantage can also function successfully in new markets.
What to focus on for one or more business models that should lead the company toward a digital transformation?
On data: a data-driven model is indispensable in an age where information and decision-making choices are based on data analysis.
On ancillary services: a model designed to put ancillary services alongside one's product, such as installation and after-sales support in case of breakage or malfunction. This not only builds customer loyalty but also creates new sources of profit.
On smart technologies in the factory: redesigning a factory by transforming it into a smart one means making a huge investment but at the same time drastically improving production processes by relying on IoT technologies, Edge and Cloud Computing, and all those software that allows interconnection between plants, systems and machinery by taking advantage of all the benefits offered by Industry 4.0.
On external virtual resources: a model involving producer-consumer interaction is increasingly desirable in a world that is moving toward the rapid exchange of ideas and services. A company geared toward collaboration with end customers or external suppliers reduces costs and risks as it relies on sharing. Thus, a network economy that grows as the number of participants increases is generated.
A radical transformation will have to proceed step by step both to adjust the course along the way and to defer investment while waiting for the first economic returns. However, what will need to be clear from the outset will be the goals and roadmap to be followed over the years.