⏱
5
min
– Article in partnership with Swiss Re –
There's a very good reason why people at the center of driving digital transformation favour the idea of a "holistic" approach – a term which is often used in the medical space. Pravina Ladva and Antonio Grasso discuss why a holistic approach to digitalisation in legacy industries such as insurance is the best way to achieve the necessary breakdown of silos to develop adaptable, future proof-solutions. And of course, as with holistic medicine, this approach forces you to leave the beaten track.

The holistic approach to digital transformation
In medicine, the term "holistic" encompasses the idea that our bodies are interconnected systems and can be explained only by looking at the whole, rather than its individual parts. Similarly, taking a holistic approach to digital transformation in the insurance industry makes a lot of sense, given that simply tackling isolated challenges may prevent us from making the most of new technology. What seems a bit like a fad could be a useful approach to harnessing new technologies.
Pravina Ladva's view
If I go to the doctor because of a backache, I get a bit suspicious if the doctor merely prescribes medication, before asking about factors that may be contributing to the pain, such as lifestyle or daily routines. Even though taking medication requires less effort, the back is a complex system of interconnected bones, muscles, and nerves. Exercises to strengthen my back and improve my posture may deliver longer term results.
This reflects a sustainable, "holistic" approach – tackling the root cause of the problem, rather than just the symptoms. Taking such an approach in business means that we must consider all parameters simultaneously, instead of solving an isolated problem.
A holistic approach allows a shift in risk-scoring models
Take, for example, our holistic suite of Automotive & Mobility Solutions. The cars of the future will be connected, autonomous, shared and electric (this is the "CASE" strategy that virtually all car manufacturers have been following for the past decade). That's why our products are designed to empower insurers to shift motor risk assessment to a holistic view that includes vehicle scoring, driver scoring and contextual factors (the environment surrounding the journey).
As vehicles evolve with increasing driver assistance features towards semi and eventually full autonomy, our vehicle scores help insurers incorporate newer features quickly and dynamically into their products. Our telematics and connected car based motor solution Coloride, developed together with Movingdots, allows for continuous driving behaviour and contextual monitoring, enabling insurers to help improve customer safety as well as underwriting and pricing accuracy.
Faster feedback and partnerships contribute to success
Luckily, the tools that accompany digitalisation have made it much easier to assess customer behaviour and get feedback from clients to evolve and iteratively develop solutions. Additionally, adopting a holistic approach to digital transformation often means that involving different partners is a prerequisite for the success of new digital market models such as ecosystem and platform business. Platforms allow insurance carriers around the world to join data-rich customer ecosystems with supply and distribution partners from outside the insurance industry.
More time consuming but more sustainable
A holistic transformation will never lead to a fixed, rigid business model, but rather one that can adapt to change, and which creates value through different kinds of partnerships. Although it may seem like an arduous process at first – like doing exercises for back pain instead of taking medication – taking a holistic approach can lead to more sustainable outcomes and solutions that are adaptable to fast-changing business environments and customer behaviours.
Antonio Grasso's view
Although the concept of "holism" can be traced back to Aristotle's Metaphysics (i.e., "the whole is more than the sum of its parts"), the term didn't make its way into common language until 1926 – with the South African statesman Jan Smuts' book Holism and Evolution. Moving beyond its philosophical and political roots, I tend to view holism through a more modern lens.
In my experience, holistic thinking and business practices rely on achieving a functional synergy and maintaining an awareness of the fact that the properties of a system should not be created based on their individual parts – no matter how distinct or defining they may appear. In businesses that innovate through digital mediums, platforms, and processes, holism and synergy go hand-in-hand to create value.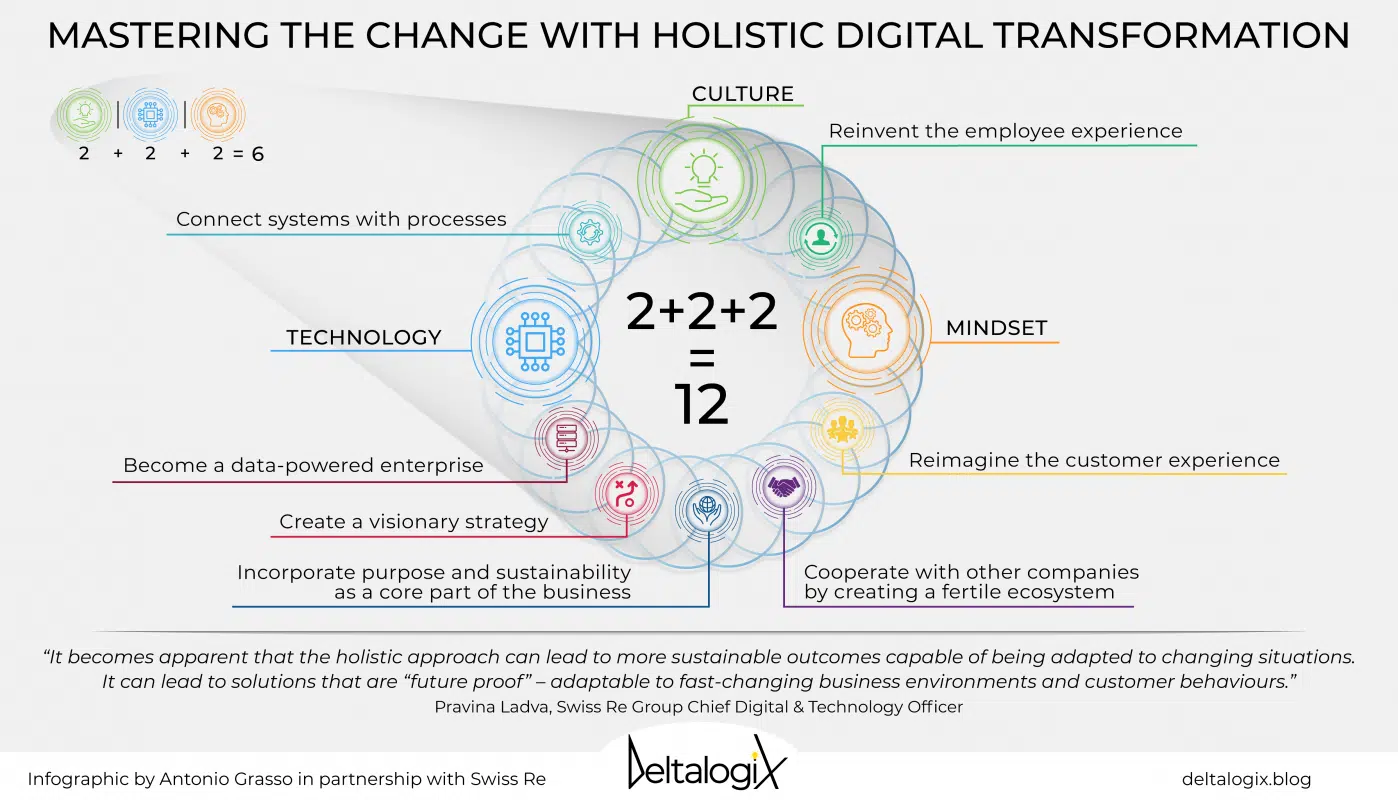 Data will play increasing role in change management
From a corporate perspective, to confront – if not embrace – a digital transformation, the leadership must strategically identify the high-level objectives and then distil them throughout the company via specific projects. In the process, it is vital to assign key performance indicators (KPI) to measure the change and course-correct, as needed.
I encourage leaders to consider their companies as a single organic whole that requires central orchestration and synergy at the operational level, and that promotes the cooperation and collaboration of all units so that the overall performance is greater than that of any individual performer. To that end, data will play an increasing role in change management and holistic transformations.
Failing to capitalize on data could mar the fate of an entire transformative process. After all, the value of data is about more than drawing deductions, insights, and supporting decision-making. It is being embedded in the operating instructions for new probabilistic algorithms that use the artificial intelligence paradigm to perform key operations. We are using training datasets to teach AI software how to perform a feature; hence, data became instruction for new generations of software.
Simultaneous view on the "big picture" and individual elements
Good data literacy, when combined with excellent data governance, can reveal the "big picture" and each individual element that is required to support an efficient and effective digital transformation. On this point, I want to echo Pravina's remarks on the future of risk assessment in auto insurance. By synergizing data on a given driver and a vehicle's history – their personal data – we can determine not only what the driver is doing now but what they will do.
By fusing the two data sets, we can create a much more sophisticated risk profile – one that can be obtained in real-time. Of course, this is just starting to become possible thanks to innovations in digital technologies that have opened up new strategic and operational scenarios. By creating a visionary strategy, reinventing the employee experience, becoming a data-powered enterprise, connecting systems with processes, reimagining the customer experience, cooperating with other companies by creating a fertile ecosystem, and never forgetting to incorporate purpose and sustainability as a core part of the business, leaders can embrace holistic thinking that will benefit every level of their organization.
As I see it, the greatest change agent and opportunity to future-proof businesses, organizations, and companies is a holistic, inclusive, and sustainable digital transformation.
– Co-author Pravina Ladva, Swiss Re Group Chief Digital & Technology Officer –