⏱
4
min
The diversity and complexity of Artificial Intelligence projects, along with rapid production times, create the need to find key roles in AI for successful projects to be generated. Let's find out together what roles are needed for the creation of an AI team that increases business value.

AI continues its development
The more time advances, the more we encounter innovation. Over the years, technologies have advanced more and more, becoming part of our daily lives. In fact, Artificial Intelligence, with its technologies, has proven to be a key resource for businesses.
The wide range of AI innovations, it is expected, will impact people and processes inside and outside a business setting, making them important to understand for many stakeholders, but especially by business leaders and teams of business engineers, who are tasked with implementing and operationalizing AI systems.
Building an AI team
When we talk about AI teams, we mean the demand for a more specific skill set, with a particular need for figures with experience in operations and in translating AI concepts into business terms and vice versa.
To build a successful AI team, well-curated planning is required. One must carefully analyze the situation in which the company lives and determine the costs. The entire AI adoption plan can be nipped in the bud if one does not focus on business values. One must avoid wasting energy and time on implementing AI projects that produce no tangible return on investment (ROI).
As part of the ongoing Digital Transformation, with many companies opting to adopt new AI technologies, one must anticipate the difficulty in scouting and hiring new talent. Assembling one's own AI team is by no means easy, as great AI developers are rare and one must also remunerate them with decidedly high salaries. The reason why the choice must be whether to focus on building an AI team based on the resources already available or to create a team with new resources.
Choosing between these two options becomes very subjective depending on the company. With increasing security concerns, building an in-house team would seem to be the best option. At the same time, more specialized AI talent is more likely to be found elsewhere, but as mentioned earlier, a careful analysis must be made in that case about the costs involved. Whether it is outside talent or a team created from within, it is important to select the right people to fill the necessary roles.
AI team, what are the figures to be implemented?
A successful AI team will require versatile skills and multiple roles. The entire team will have to work closely with other departments in the organization, breaking down all kinds of silos. Only then, will it be possible to create a team that meets all business needs.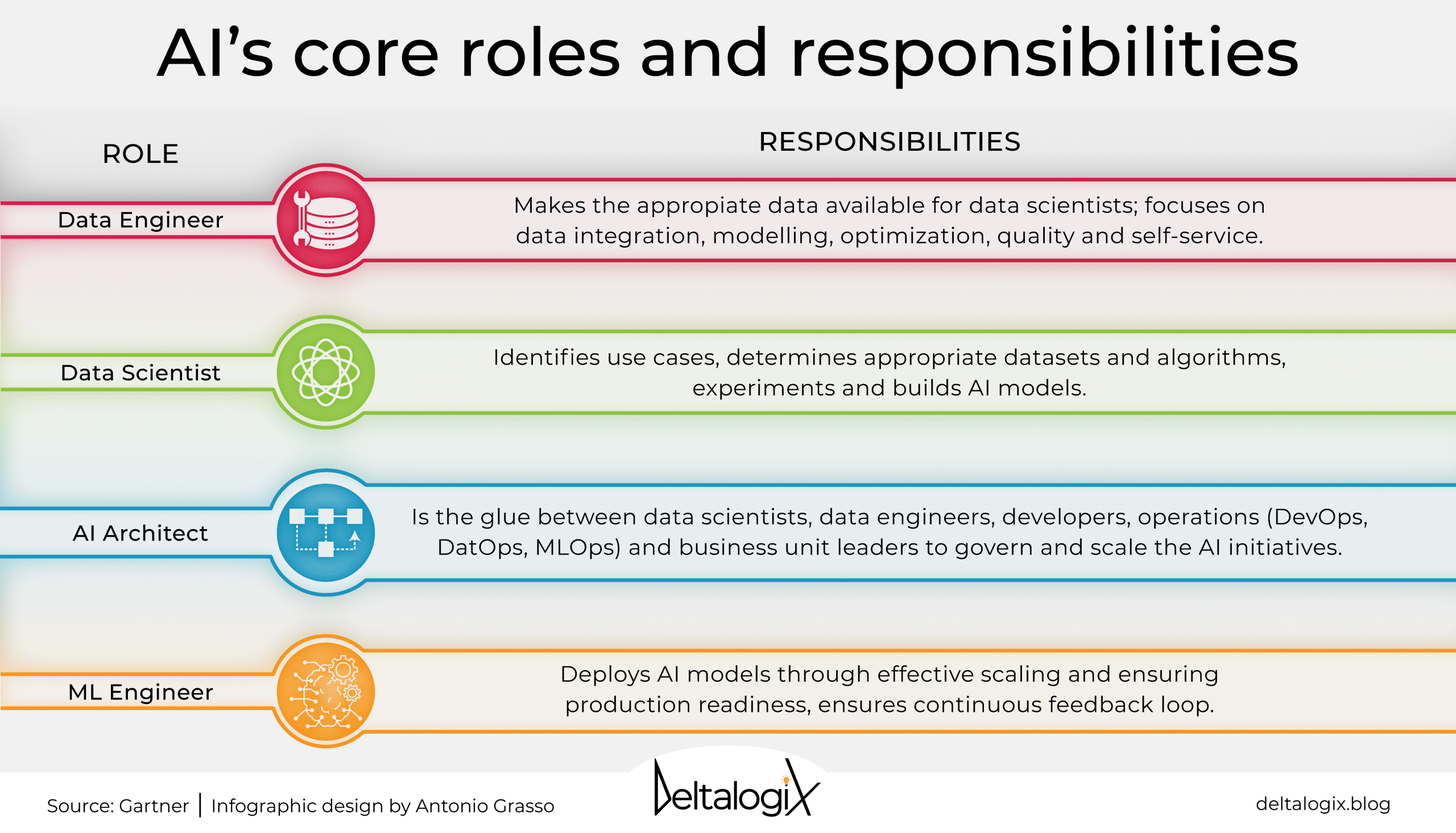 Data Engineer
The Data Engineer is the one who develops the data infrastructure, making it available for business analysis operations. In summary, the data engineer creates the framework in which they transform raw data into structures on which data scientists work.
The skills needed for a data engineer are:
Ability to collect data
Data processing
Data storage
Making data available to users in a secure manner
Data warehousing: that is, the storage of large amounts of data
Knowledge of programming languages
Data Scientist
A Data Scientist studies data and provides meaningful business insights that are crucial to decision-making in the enterprise. They also work on creating and implementing AI-based algorithms in various aspects of the business to solve business problems. It becomes critically important for a data scientist to understand the needs of the business, as they have to meet the business problems that the business faces and find solutions to improve them.
A professional can become a good data scientist only if he or she possesses the following skills:
Strong statistical and mathematical knowledge
Knowledge of programming
AI Architect
AI Architects are those individuals who work closely with enterprise and solution architects, but unlike the enterprise architecture team, which is responsible for a wide range of functions, they are focused on building a robust enterprise architecture for AI.
The increasing diversity and development of AI implementation models have created the need for this role, which requires skills such as:
Ability to plan data pipelines
Knowledge of DevOps software and tools, or a combination of development (Dev) and operations (Ops), to continuously deliver value to customers
Understanding of advanced data analytics
Machine Learning Engineer
Machine Learning Engineers are responsible for understanding the research, construction, and design of Artificial Intelligence responsible for machine learning, as well as the maintenance and improvement of existing AI systems.
The job responsibilities of Machine Learning engineers are diverse, but often include:
Implementing machine learning algorithms
Performing experiments and tests on artificial intelligence systems
Design and development of machine learning systems
Performing statistical analysis
---
For AI initiatives to be operational, it is critical that companies create defined AI roles and competencies
Click To Tweet
---
Is it therefore useful to build an AI-specific team?
Companies embarking on an AI journey have a better chance of success when they have the support of executive leadership and the right talent in key AI roles.
Without a doubt, AI can solve many problems that companies face. However, at the same time, it also creates new obstacles and challenges, which if properly overcome pave the way for new goals in the future.
Building an AI team can be difficult in the initial stages. That is why the ideal choice is to build your team gradually. You can start with a single figure, which can be the data engineer as well as the data scientist, and later build a full team as the technologies implemented in the company require it.