⏱
6
min
What is the main mistake many companies still make when it comes to sustainability? That of engaging in quarterly strategies to address market and governmental demands while losing sight of long-term sustainable goals. In reality, it is the long-term sustainable strategies that create competitive advantage and real business value. Let's see what these aspects are that a sustainable team leader should focus on.

What is sustainable leadership?
Sustainable leadership is what guides an organization towards a sustainable goal that transcends individual operations and is capable of creating significant value and competitive advantage over the long term. It is a power that resides within the company in the hands of leaders, i.e. charismatic figures who are able to guide and motivate a group of people towards a common goal.
When the goal is sustainability, we find companies in leadership positions because of the competitive advantage they have built up over time. This position is the result of a company's social, environmental, and governance growth strategies.
To compete, a much broader transformation is required than most companies are currently undertaking. However, the result of this transformation will not only positively impact the environment, society or governance, but will also increase the company's profits. The motivation? Today, those involved in the production process are more aware of sustainability and, above all, they choose companies that are truly sustainable.
Talent in the marketplace is looking for companies that care about inclusion, respect for diversity, and fair use of resources. Consumers are not satisfied with products or services that satisfy a need but look for companies that protect the environment and society in the production or delivery of that product/service. Finally, shareholders and investors want clear evidence of the sustainable commitment of the companies they are interested in. In addition to ESG compliance, stakeholders want companies to be competent and able to understand sustainable operations' financial and management risks.
Business leaders must therefore become experts in assessing the challenges and opportunities of the ecosystems in which they operate. Sustainability should not be a driver that drives operations related to that environment but a transversal effort that involves the entire company. Let's, therefore, look at what might be an optimal strategy to initiate change.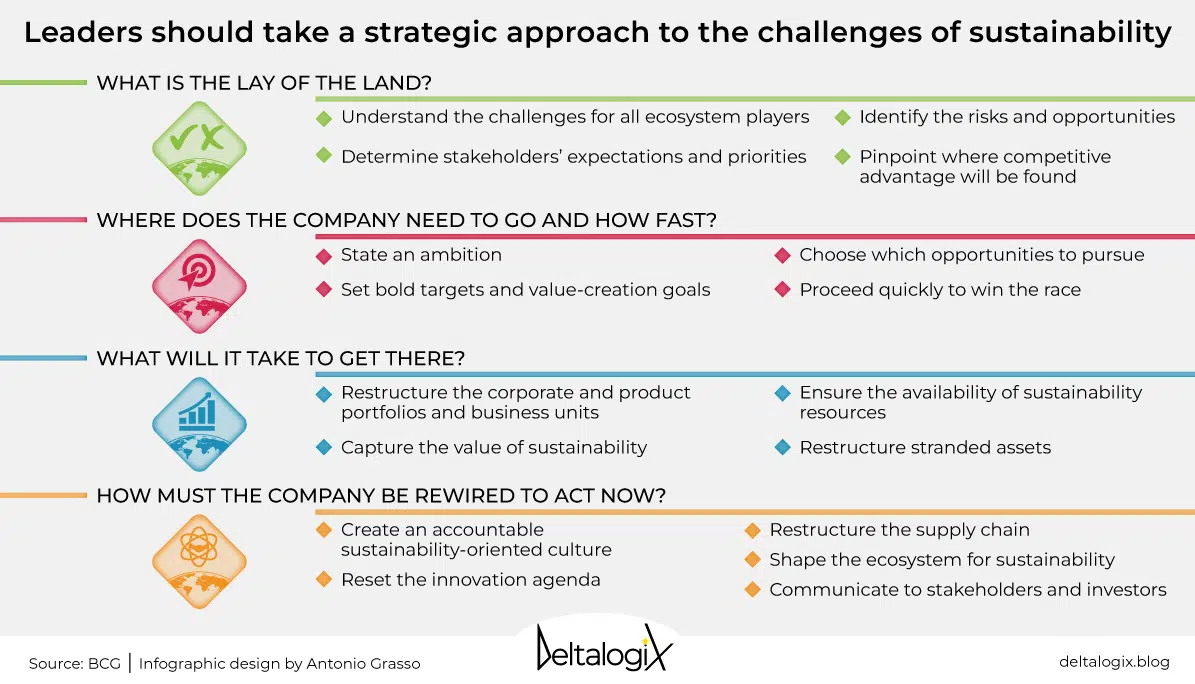 Sustainable strategy: what leaders should focus on
Absurdly, although sustainability has been talked about for years, and we are already seeing the results of irresponsible behaviour towards the environment, there are few companies whose organisational structure has been designed according to a sustainable model. This means that many companies respond primarily to external demands for sustainability. In other words, they implement measures aimed at increasing the sustainability index for a given issue by providing narrow evidence of sustainable commitment.
On the other hand, if a company's organization is designed to be sustainable in all its parts, even the individual operations required by the ecosystem in which it operates will fit seamlessly and add value. The key players in this sustainable transformation project will be CEOs and senior managers, because a push of this magnitude has to come from the top, following a top-down logic.
So what are the key aspects of a company's journey towards sustainability? Let's look at them together.
Knowing the challenges and opportunities of the ecosystem in which the company operates
Before embarking on an internal Strategic Sustainability Plan, it is essential to understand all aspects of the sustainable ecosystem. What are the environmental practices and policies of the country in which the company operates; how do competitors behave in terms of the environment, society and governance; what are the biological, mineral and energy resources to focus on and how can they be obtained before they become scarce? And again, how to promote policies of inclusion and equity that attract talent and improve the society in which one operates.
Currently, the climate emergency has made the preservation of ecosystems and biodiversity one of the most important and complex challenges to face. Indeed, environmental issues have a greater resonance than social and financial issues, which are no less important in the global discourse. Leaders must therefore have a thorough understanding of these issues and then understand how the company, with its products and services, can make its contribution.
They also need to be actively involved in the environmental and social practices promoted by local policies in order to fully understand the phenomena, forge new partnerships and choose which financial resources to focus on. Finally, it must be aware of the expectations and priorities of the stakeholders with whom it comes into contact.
Only after identifying the sustainable opportunities offered by the external context will it be possible to develop a focused strategy that addresses both short and long-term challenges. It must be a path that can create value for the company and at the same time offer a competitive advantage in the race for sustainability.
Focus on a responsible culture throughout the organization
Having assessed the external context and acquired the necessary skills, leaders need to promote a responsible, sustainability-oriented culture within the company. Only then will they actively motivate employees. As with any radical, enterprise-wide change, strategic planning or goal setting is not enough. What is needed is a shared vision that can reduce the effort required to reorganise work.
It is also advisable to establish a central sustainability team when undertaking such radical changes. Leaders should be supported in their operations by a team of cross-departmental experts who can offer immediate support in the transition.
Only a shared and sincere vision will motivate senior management to fund bold, high-risk goals and employees to engage in a transition that requires flexibility and new approaches.
---
To become truly sustainable, companies must be willing to embrace a responsible culture of sustainability and transform their business models.
Click To Tweet
---
Defining bold goals and an overall strategy
Having shared the sustainable vision and entrusted the task to an executive assisted by a team of experts, it comes down to outlining the strategy and the operations it entails. This is the time to define a strategic plan for sustainability that includes bold, long-term goals, broken down into short- and medium-term value creation objectives.
Among the opportunities offered by the ecosystem and sustainable policies, leaders will need to be adept at choosing goals and innovations that relate to the core business. This is the only way to: reduce transformation time; make a material contribution to long-term performance; and maintain competitive advantage.
Once the objectives have been defined, they will have to be incorporated into the company's overall strategy by highlighting what operational efforts the departments will have to make. In this way, we will not have a sustainability strategy whose impact will be limited and relative to these operations, but an overall business strategy that includes sustainability as a fundamental component of each department.
Transforming the business around a sustainable strategy
The application phase is the most complex as it involves the whole company and requires continuous monitoring, especially in the initial implementation phase.
The first step will be to invest in R&D to explore new technologies, business models, and agreements with partners who are moving in the same direction as us. This will be reflected in a restructuring of the product and service portfolio and related business units while ensuring that the resources are available to reshape the business.
Which organizational structure should we choose? There is no one sustainable organizational structure for all businesses. What is important is that the structure and strategy are integrated and compatible with the underlying business systems. Only then will it be possible to achieve bold goals at scale.
The appointee, at this stage, will have to constantly monitor the data and results in order to suggest decision-making choices to the corporate leadership regarding capital allocation, research funding and the creation of a portfolio congruent with the outlined objectives. In this, it will be crucial to assess ESG indices (read here how they are calculated).
Attention will also have to be paid to the risk of blocking less sustainable assets. The forecasting phase will be used to identify these, with a view to transforming or liquidating them before they become a problem for the company.
Why is such a drastic change necessary? Because although we have been talking about sustainability for years, there are still very few companies that have transformed their business models to make them sustainable. And if a company does not embrace sustainability in a comprehensive manner, it will not achieve market leadership.

Communicating and promoting sustainable transformation
An effort of this magnitude will need to be properly communicated for several reasons. First and foremost, to attract talent, partners and customers who reward environmental, social and governance commitment. Similarly, stakeholders and investors monitor ESG indices when selecting companies to partner with.
The organisation needs to communicate progress both internally and externally to the media. We have seen that the initial role of leaders is to motivate employees by sharing their vision and the potential of sustainable transformation. To be truly productive, this effort needs to be followed by sharing the results from the first successes. Only then will the team and employees renew their commitment.
At the same time, it will be important to plan appropriate and effective external communication to show the results to competitors and stakeholders. Marketing campaigns should be accompanied by active participation in relevant sustainable events or non-profit social and environmental activities related to the company's operational context.
Sustainability is a circular process
When a sustainable transformation is triggered, a virtuous circle is created involving a constant improvement in sustainability accompanied by an equally constant improvement in performance. At the helm should be decision-makers as sustainable leaders, managing the allocation of economic resources, technology and governance practices.
The stakes of sustainable behaviour are high. For example, by embracing a circular economy model and enabling the full recycling of materials, we not only improve brand awareness and competitive advantage, but we can also claim to have actively contributed to improving the world in which we live, and that satisfaction is priceless.