⏱
6
min
More and more companies are committed to choosing partners with whom they work to improve their sustainability rating. The motivations driving them in this direction can be diverse and more or less virtuous. ESGs represent the key pillars of sustainability and are indices for assessing an organization's commitment to the environment (environmental), ethical behavior (social), and corporate governance. The successful implementation of ESG programs in a company requires a well-defined strategy and a holistic approach that involves the entire organization. In this article, we explore the key levers for implementing effective ESG programs.

Being ambitious: seizing opportunities and future trends
Ambition should not be confused with going the extra mile, but rather with a healthy projection of challenging goals. Only then will sustainability not be an achievement to show off, but an approach to believe in.
Sustainable change must inspire all human resources involved. Stimulating imagination with ambitious goals that focus on innovation and transformation is the only way to ensure a strong and lasting commitment. Moreover, if we want to aspire to something challenging, we must be able to identify new business opportunities.
CEOs must be able to look beyond the horizon and anticipate future trends will enable their company to be at the forefront of sustainability. This approach improves their reputation and attracts the attention of customers, investors and talent.
An ambitious vision is more likely to attract sustainable investments, as investors are interested in supporting companies with a sound and forward-looking ESG (Environmental, Social, Governance) strategy.
Motivating leadership: deep sharing is essential for sustained commitment
From the top, the ambitious vision will have to pass through and involve the managers who will have to form the sustainable leadership of the company. Such an approach is crucial for creating a sustainable corporate culture that is solid and resilient over time. Without the support of the front line, ambitious goals will remain a pipe dream. This is because sustainability is not an activity that can be relegated to a specific department and cannot be done in isolation. On the contrary, ESG requires an approach that involves the whole company and touches all activities to a greater or lesser extent. Only with the support and commitment of managers and their staff will we be able to encourage and support the adoption of green and responsible practices.
To motivate, however, it is essential to understand the benefits of such a complex journey. A careful analysis of the company's external context and of sustainable social movements will help the organization to understand its role in the global ecosystem. These aspects are crucial to developing a clear and effective strategy.
Leaders need to ally themselves by sharing strategy and developing medium- and long-term goals that pull the different departments in the same direction.
The questions to ask are: What is the context in which we operate? What is the direction the company needs to take, and how fast do we need to get there? What technologies and resources do we need to invest in? How does the change need to happen? See the article on designing a sustainable strategy for the answers.
A sustainability leadership team will be able to:
lead the company in defining a sustainable vision;
allocate appropriate resources;
influence culture and behavior;
communicate effectively;
build strategic partnerships.
Only in this way will companies be able to transform sustainability from a simple isolated practice to a central element of their business strategy. Such an attitude will create long-term value for the company itself and for society as a whole.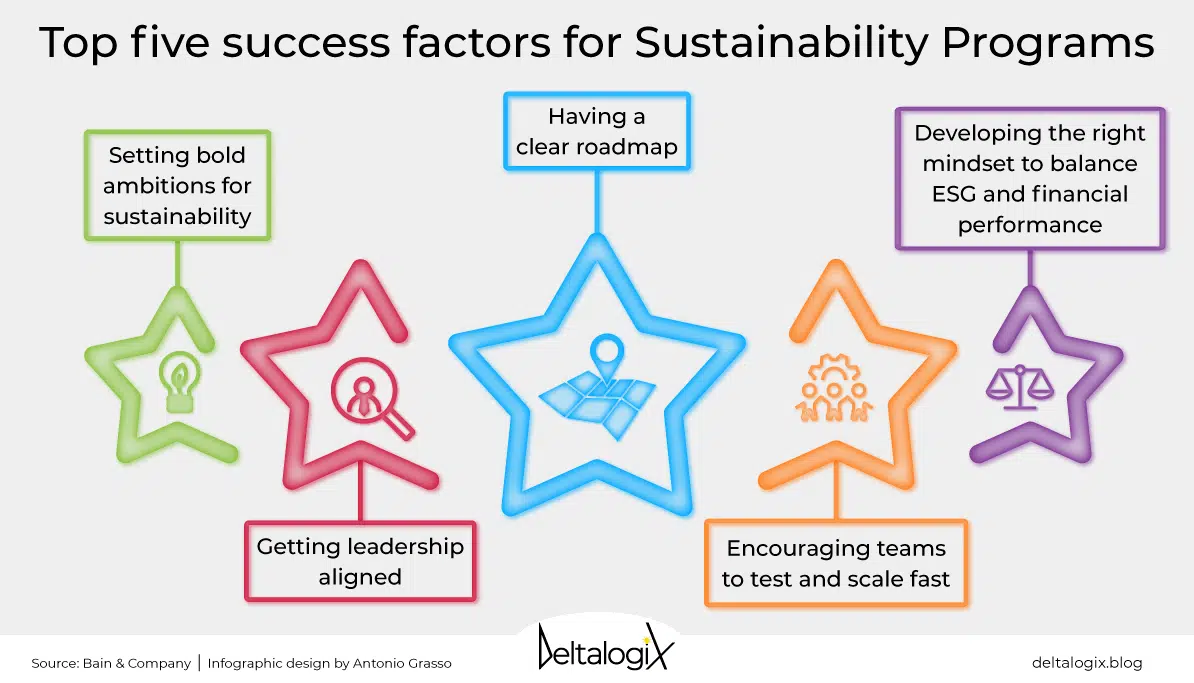 Defining a strategy and achievable goals
Once again, we need to distinguish between the sustainability department of a consultancy and the sustainability journey that an organization needs to take. In the former case, sustainable activities, partnerships, and strategies are the value proposition designed specifically for clients, and the strategy and goals may not even be shared across the organization. If, on the other hand, an organization is embarking on a sustainability journey because it is a corporate commitment, all departments of the company will be involved, as well as stakeholders, including customers, employees, business partners, local communities, and investors.
At the strategic planning stage, each element will be a piece of the puzzle:
the vision will set out the aspiration to create long-term value for the company and society as a whole;
the objectives will only drive change if they are specific, measurable, realistic, and time-bound;
the implementation plan will be the set of actions required, the resources needed, and the owners of the various initiatives.
Setting ambitious goals stimulates the adoption of new technologies, practices and strategies that can lead to significant improvements in terms of environmental, social and governance impacts. Moreover, they can position the company in a position of leadership and competitive advantage in the market, attracting the attention of investors, customers and talent who value ESG performance as an important criterion in their choice.
Just be careful not to get too carried away and consider the feasibility of the goals. They should not be unrealistic or unachievable, as this can lead to frustration, disillusionment, and even the risk of greenwashing, i.e. adopting only apparent sustainability practices without real impact. Instead, we should conduct a thorough analysis of the company's capabilities and resources, taking into account technical, financial, and operational constraints.
If we set achievable goals, but above all if we align these goals with business objectives, we will have a gradual improvement trajectory, which can be reinforced over time with new, increasingly ambitious goals.
Finally, in order to properly define the Sustainable Development Goals and the associated roadmap, we cannot ignore the guidelines established by the United Nations and aimed at improving global conditions in the social, economic, and environmental spheres. Indeed, it is a common line that brings together the main sustainability challenges, summarised in 17 goals with 169 targets to be achieved by 2030.
---
The adoption of sustainable programs requires a clear strategy that aligns with business objectives and promotes a holistic company approach.
Click To Tweet
---
Planning and implementation: from circular economy to sustainable initiatives
The quintessential sustainable economic model is based on the circular economy, in which waste gives way to recycling, following a path that significantly reduces waste. This topic has been dealt with in due detail in another article, but it is worth remembering that it is a radical transformation that starts with the purchase of raw materials and goes all the way through to end-of-life management.
Today, many large companies are adopting it, supported by ICT technologies (Internet of Things, cloud computing, blockchain, artificial intelligence, big data and advanced analytics). Aligning digitalization with sustainable goals is a change that will bring benefits on both fronts.
However, not every company can invest in a radical transformation. Therefore, consideration must also be given to implementing sustainable initiatives with scalable goals that can be incorporated into a larger project over time.
These initiatives can cover a range of areas, such as energy efficiency, emissions reduction, employee social responsibility, and promoting diversity and inclusion. It is important to involve appropriate stakeholders and closely monitor the effectiveness of these initiatives in achieving macro and micro objectives.
Verify and communicate the results of the change
Having been inspired by a sustainable and ambitious vision, and having defined a strategy and objectives that are useful for design and implementation, the results of ESG initiatives need to be verified.
This requires the establishment of systems and processes to measure, monitor and report progress against ESG objectives. This requires the definition of relevant key performance indicators (KPIs) and the implementation of reliable data collection systems.
The stage of collecting accurate and reliable data on environmental, social, and governance practices is, as always, a delicate one. We are talking about data that includes information on, for example, carbon emissions, the social impact of activities, and organizational structure. The data is then analyzed and compared against ESG-specific performance indicators. Finally, the results are made publicly available through corporate reports, ESG ratings or other forms of transparent communication.
Transparent communication of results should not be neglected. It is ESG indicators, in particular, that will attract investors or companies interested in working with us, as well as customers and suppliers. In general, sustainability is an attractive lever for all stakeholders who value a continuous commitment to accountability and corporate responsibility. This is the only way for companies to complete the sustainability journey and contribute to a better future for all.